Philippine real estate giant Ayala Land has unveiled Anvaya Cove Golf & Sports Club, the group's first attempt at high-end, seaside golf development. The 7,030-yard course, designed by Golfplan partner Kevin Ramsey, opened for play December 7, and the initial reaction from members, international media and course raters has been a uniform and straightforward "Wow."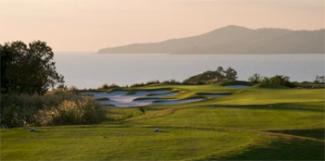 The Drivable par-4 11th
Perched on the West Philippine Sea, 2.5 hours from downtown Manila, the routing at Anvaya Cove Golf & Sports Club involves the gamut of golf environments. Several holes play directly alongside the beach, while others occupy bluffs some 30 meters above the surf. Several more cut paths through thick, tropical jungle, while the remaining run along ridges above sea level.
"With that sort of elevation change, there are only a few holes that don't have an ocean view, but it's always a thrill to deploy salt water as a legitimate hazard, and we did that multiple times out here at Anvaya Cove," said Ramsey, whose California-based firm has, since its founding in 1972, designed more than 200 courses in 75 different countries – including The Club at Nine Bridges, in South Korea, one of only two modern Asian courses ranked on Golf Magazine's World Top 100.
"We believe Anvaya Cove to be in this class," Ramsey continued. "Truly great golf courses can exist in a single environment, but I prefer those that play through a diversity of environments. The terrain here – the elevation change, the vegetation and Ayala Land Premier's overall land-planning acumen – allowed us to create an uninterrupted string of really strong golf holes that play through five distinct environments, never repeat themselves, and never fail to elicit a strong emotional response.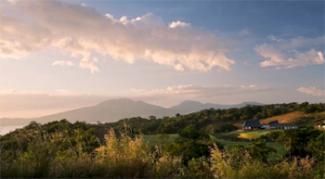 The Clubhouse at Anvaya Cove Golf & Sports Club,
with the Bataan Mountains as Backdrop
"Yeah, there's a lot of wow out there. Holes 11 through 13 account for some of that. They form our own 'Amen Corner,' only this one's at seaside."
This run of holes – a drivable par-4 looking out across Subic Bay, a par-4 that play downhill to the beach, and a bluff-top par-3 whose peninsular green falls off some 30 meters into the ocean on three sides – may rank among the most photographed holes in Asian golf. But Ramsey is also proud of the inland holes which, thanks to the marked elevation changes and expert shaping, played right into the hands of his firm's "look hard, play fair" philosophy.
"From the tips, it's long and tough enough to challenge tour pros, which is something the client specifically requested – but it's a very playable track from the multiple forward tees we created," Ramsey said. "At 470 hectares, this is an enormous property. We were given the latitude to provide these golf holes the width they needed. By the same token, the homes here are barely visible from the golf course, which is a welcome anomaly in the golf real estate context."
Golfplan's design is the centerpiece of Anvaya Cove, a seaside residential community of homes nestled in distinct and secluded tropical neighborhoods developed by Ayala Land, which recently unveiled a pair of new, luxury hotels, the Fairmont Makati and The Raffles Makati, in Manila.
Anvaya Cove is the company's first stab at the seaside, golf-residential model. The quality of the golf and residential mix at Anvaya Cove – plus its proximity to the Subic Freeport Zone and the new airport at the former Clark Air Force base (now served by Air Asia, Jetstar and Cebu Pacific airlines) – buttress the development's appeal to international golf real estate homeowners/investors.
"The physical characteristics here immediately place it on a par with international developments that have similarly sought to seamlessly combine living and leisure in a thoughtfully designed, master-planned community," said Jose Juan Jugo, head of Ayala Land Premier. "With Anvaya Cove, we saw the opportunity to meet the demand in the Philippine domestic market while also competing effectively in the international second-home market. We've already welcomed retired ex-pats who've chosen to make Anvaya Cove their primary homes. With a golf course of this quality now in place, we anticipate further interest in this sort of investment – from what we see as a global market."
Anvaya Cove boasts a Beach & Nature Club complete with two restaurants, a water sports pavilion, pool complex and a massive swath of pristine beach along Anvaya Cove itself. Though they are essentially two clubs in one location; members of the Anvaya Cove Golf & Sports Club enjoy the amenities at both, including more than 40 guest cottages.
"Too often, courses in golf communities get the land the developers didn't want for housing," Ramsey said. "I call this the 'Leftover Syndrome,' but the reverse situation applied here at Anvaya Cove. Take the par-5 second hole, which plays along a ridge high on the property and gives golfers their first view of the sea – and the Bataan Mountain range across Subic Bay. That land, those views, would normally be set aside for housing. Not here, and it's a big reason the course came out so spectacularly well."
Source:CyberGolf
For Inquiries, please contact us via the form below or CALL JP, Tony or Vicky Reyes at 930-7635, 211-1970, 453-8373, 425-2979 or 09178653689 or 09173138271 or 09173138273 or 09173138278 | APReyes Realty Investment | Feel free to ask us questions about Houses or Lots for sale in Anvaya Cove Morong Bataan, we will be happy to answer them for you. Please contact only the undersigned for viewing appointments or site tripping.